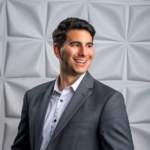 Andrew Shammai
Home Buyer Specialist
A little bit about me...
Andrew is a licensed real estate professional with seven years of experience in the industry. After studying architecture at the University of Louisiana at Lafayette, Andrew discovered a passion for real estate while doing accounting work for a local real estate company while attending school. This experience inspired Andrew to pursue a career in real estate and led him to obtain his real estate license.
Throughout Andrew's career, he has developed a reputation for providing exceptional service to his clients. Whether working with buyers, sellers, or investors, Andrew is dedicated to helping his clients achieve their real estate goals. He has a deep understanding of the local market and stays up-to-date on the latest trends and developments to better serve his clients.
In addition to his real estate expertise, Andrew also brings a strong work ethic and attention to detail to every transaction. He understands that buying or selling a home is one of the biggest decisions a person can make, and he can take the responsibility of guiding his clients through the process seriously.
When Andrew is not helping clients with their real estate needs, he enjoys spending time with family and friends, working out, traveling, and exploring the local community.