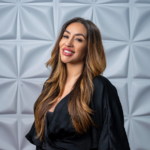 Fabiola Greene
Home Buyer Specialist
A little bit about me...
Fabiola Greene is a bilingual Realtor based in Texas who is deeply passionate about the real estate industry. Born in Los Angeles, California, Fabiola spent most of her childhood in various parts of Galveston, Texas, becoming well-acquainted with the area. Raised in a Hispanic home, she learned the value of hard work and discipline from a young age.
After graduating from Ball High in 2004, Fabiola earned a business degree and started a successful career in Property Management. With 14 years of experience in residential and multifamily management, marketing, and leasing of high-rise and new construction, she has developed into a seasoned expert in her field.
Fabiola utilizes her knowledge and expertise to guide clients through the complexities of real estate in Texas. She values personalized service and strives to understand her clients' unique needs and preferences to develop a tailored strategy that meets their goals.
Outside of work, Fabiola enjoys spending quality time with her family and traveling to recharge. Her passion for real estate and dedication to her clients make her an excellent choice for anyone looking to buy, sell, or invest in Texas real estate.