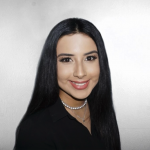 Julie Flores
Home Buyer Specialist
A little bit about me...
My passion for real estate began when my parents purchased their second home. I quickly realized the importance of having a knowledgeable and trustworthy realtor throughout the process.
I understand that buying or selling a home can be one of the biggest transactions of a person's life, and it is my priority to make the experience as smooth and stress-free as possible.
I believe that communication is key to a successful real estate transaction, and I make it a priority to listen carefully to my clients' needs and concerns. Whether they are looking for their dream home or trying to sell their current property, I provide personalized attention and guidance every step of the way.
My dedication to providing value goes beyond just buying or selling a home. I strive to provide my clients with comprehensive resources and information to make informed decisions. From market analysis to neighborhood information, I am always willing to go the extra mile to ensure my clients are well-informed and confident in their real estate decisions.
In addition to my commitment to my clients, I am also passionate about giving back to my community. I believe in supporting local organizations and businesses, and I am proud to be a member of a community that values hard work and dedication. Outside of work , I explore the city. Houston is a very huge city there is always something new to discover, a new street to wander down, a new coffee shop to try, or a new park to picnic in. The city is alive with possibilities, and I love nothing more than immersing myself in its culture. As a Houston native, I have intimate knowledge of the area and a strong desire to make my home your home.
Overall, my goal as a realtor is to build lasting relationships with my clients based on trust, integrity, and exceptional service. While I may not have many years of experience but with the support of my team leader and the resources of my brokerage, you can rest assured that I will go above and beyond to exceed your expectations. My philosophy is simple: my clients come first, and I will do whatever it takes to ensure your satisfaction.
Contact me for all your home lease needs