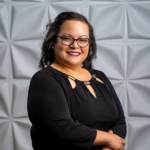 Kristen Harris
Home Buyer Specialist
A little about me
Kristen was born in the bustling city of Houston, Texas. She spent her childhood with three loving siblings and enjoyed the unique cultural blend of her parents' heritage - Half Mexican and half Vietnamese.
After completing high school, Kristen attended college, earning an associate degree in real estate. She obtained her license in 2015 and began her journey as a realtor. She was determined to excel in her profession, despite being a housewife at the time.
In addition to her thriving career, Kristen is actively involved in her children's activities. She participates actively in PTO and never misses a school event.
As a mother of three, Kristen understands the importance of staying fit and healthy. In her free time, she enjoys working out at the gym, practicing her gardening skills and cooking up a storm in the kitchen.
Looking forward to this year, Kristen has set ambitious goals for herself. She plans on losing 30 more pounds and completing 24 successful transactions in the real estate industry. With her hard-working attitude, nothing is impossible for this determined realtor.