Take a moment to imagine where you want to be in a few years. You might be thinking about your job, money, wanting more stability, or goals you want to reach soon. Is homeownership a part of that vision? If it is, you should know owning a home has a whole lot of financial benefits.
One of the many reasons to buy a home is that it's a great way to build wealth and gain financial stability. That's because the value of most homes increases over time, which in turn grows your net worth. Here's how home values are rising right now. According to Zillow:
"The total value of the U.S. housing market – the sum of Zillow's estimated value for every U.S. home – is now slightly less than $52 trillion, which is $1.1 trillion higher than the previous peak reached last June."
Basically, homeownership is a tremendous wealth-building tool. And with home values back on the rise across the nation, now might be a good time to consider if owning a home is something you want to reach for.
Here's a look at some data to see how much owning a home can really make a difference in your life.
Household Net Worth Is Rising
Data shows that while those in the top 1% saw the most dramatic net worth increase, people from every single tax bracket have seen their wealth grow over the past few years (see graph below):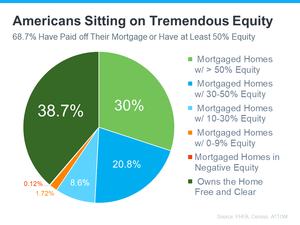 That means nearly 70% of homeowners have a tremendous amount of equity right now.
How Equity Helps with Your Affordability Concerns
With today's affordability challenges, your equity can make a big difference when you decide to move. After you sell your house, you can use the equity you've built up in your home to help you buy your next one. Here's how:
Be an all-cash buyer: If you've been living in your current home for a long time, you might have enough equity to buy a new house without having to take out a loan. If that's the case, you won't need to borrow any money or worry about mortgage rates. The National Association of Realtors (NAR) states:
"These all-cash home buyers are happily avoiding the higher mortgage interest rates . . ."
Make a larger down payment: Your equity could be used toward your next down payment. It might even be enough to let you put a larger amount down, so you won't have to borrow as much money so today's rates become less of a sticking point. Experian explains:
"Increasing your down payment lowers your principal loan amount and, consequently, your loan-to-value ratio, which could lead to a lower interest rate offer from your lender."
Bottom Line
If you're thinking about moving, the equity you've built up can make a big difference, especially today. To find out how much equity you've got in your current house and how you can use it for your next home, let's connect.