According to a recent Gallup Poll, real estate has been voted the best long-term investment for 11 years in a row, beating gold, stocks, bonds, and more.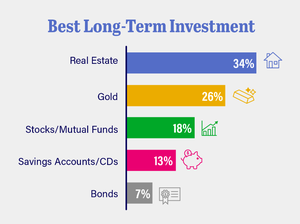 Why Real Estate Earns the Top Spot? 
Owning real estate means more than just having a home – it's an investment in your future. That's because it's typically a stable and secure asset that tends to increase in value as time goes on.  "Homeownership not only builds a sense of pride and accomplishment, but it's also an important step toward achieving long-term financial stability." – Freddie Mac
We, at Aurhomes Group, are ready to help you jumpstart your journey in investing for your future. Connect with us and Let's Talk Real Estate!